Los Angeles Luxury CHOCOLATE SALON Welcomes Celebrity Panelists and Chocolate Film Screening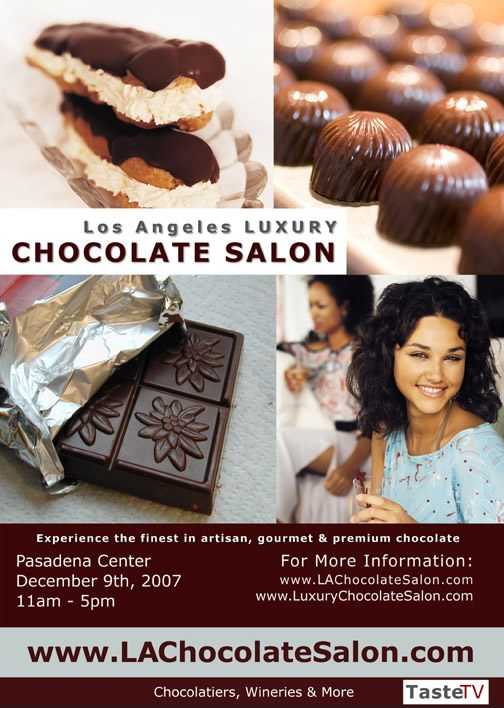 San Francisco, CA Nov 19, 2007 -- The Los Angeles Luxury CHOCOLATE SALON, December 9th, 2007, announces a delicious lineup of speakers and members of its Chocolate Tasting Panel, including food radio celebrity Evan Kleinman, the host of Good Food on KCRW, cookbook author and founder of Slow Food, Los Angeles. TasteTV also announces that the Salon's chocolate events will include a sneak-peak screening of the new short film, "Searching for the Heart of Chocolate," by filmmaker Sarah Feinbloom at the Pasadena Center.

Other exciting Chocolate Tasting Panelists include Lesley Balla (Editor, Eater LA), Lindsay William-Ross (Food Editor, LAist), lifestyle/cooking personality Audrey Bernstein (Oh-Audrey), author Amelia Saltsman (The Santa Monica Farmer's Market Cookbook), Anne Smith (The New School of Cooking), and others.

During the Salon, producer and director Sarah Feinbloom will have an advance screening of her new short film, "Searching for the Heart of Chocolate." Sarah Feinbloom's films have appeared on PBS, NPR, and at film festivals. A trailer for the film can be seen on www.ChocolateTelevision.com, as well as on www.TasteTV.com under "Chocolate.

At the Los Angeles Luxury CHOCOLATE SALON, chocolate aficionados, fanatics, buyers and journalists will experience the finest in artisan, gourmet & premium chocolate, wine, and specialty food and items in one of the world's great metropolitan areas. A partial list of Luxury Chocolate Salon participants includes Guittard Chocolate, L'Artisan du Chocolat, Mignon Chocolate, Chuao Chocolatier, Decadent Tastes, Yum! Chocolate, The Chocolate Traveler, Malibu Toffee, Vermeer Dutch Chocolate Cream Liqueur, Silver Stone Wines, Randy Fuhrman Events / Randy's Brownies, Le Creuset, Swissmar, Putumayo World Music, Chocolate Television, and much, much more.

The Los Angeles Luxury CHOCOLATE SALON is Sunday, December 9th, 2007, at the Pasadena Center, 300 Green Street. Tickets are $20 for adults, $10 for children 6-12, under 6 free (Advance Tickets are $17.50). 11:00 a.m. - 5:00 p.m. For Advance Ticket purchases, Salon information, the film trailer, or for the Menu of events, go to http://www.LAChocolateSalon.com, or http://www.LuxuryChocolateSalon.com


The Chocolate Guide to be Released
In a separate announcement, TasteTV and Chocolate Television announce that their upcoming publication, "THE CHOCOLATE GUIDE: To Local Chocolatiers, Chocolate Makers, Boutiques, Patisseries and Shops - Western Edition," will begin shipping on December 15th. The Eastern Edition is currently under development.
View a PDF Excerpt from the Chocolate Guide
About TasteTV
Salon sponsor TasteTV is the leading New Media food, wine and lifestyle network, covering delicious topics ranging from restaurants, food, and wine to chocolate, cooking, fashion, and style. Its videos can be seen online at http://www.TasteTV.com, ChocolateTelevision.com, BlogCritics.org, on TiVO, Comcast On Demand, and on over 80 television stations nationwide.

This TasteTV Chocolate Update comes from the latest news online about what the TasteTV TasteMakers Social Club say they want to know here and at TasteTV.com. technorati tags:TasteTV, restaurants, video, content, food, Chocolate, wine, recipes, cooking, Restaurant Reviews, Chef, ITV, fashion, celebrity chef