The premier chocolate show on the West Coast, the 7th Annual San Francisco International CHOCOLATE SALON, has the pleasure of announcing this year's lineup of chocolate, food and lifestyle gurus speaking at this year's event on March 24, 2013.
The SF Chocolate Salon is the highlight of SF CHOCOLATE WEEK events, promos and specials at restaurants and shops around the Bay Area.
Salon speaker topics range from Pairing Chocolate and Wine, Where Fine Quality Chocolate comes from, and The Story of Chocolate in France, to Chocolate Scented Orchids and Vanilla Bean Vines, Marcia Gagliardi's Picks on SF's Best Chocolate Desserts, and Chocolate and Pilates.
Some of the speakers for this year include: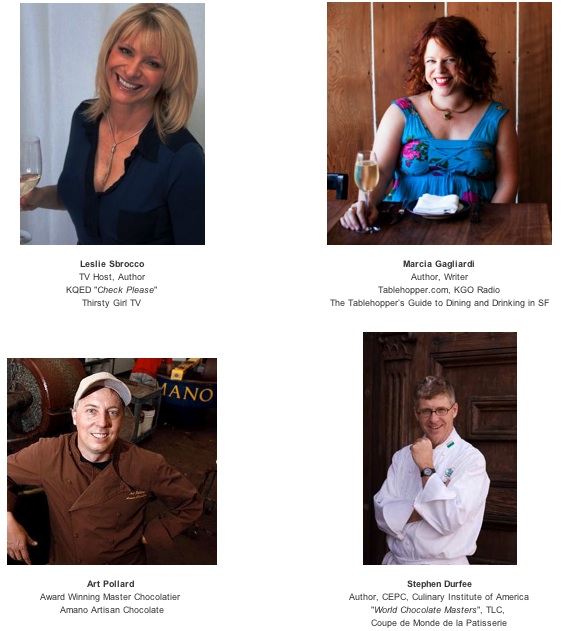 Leslie Sbrocco, TV Host, Author, KQED "Check Please" and Thirsty Girl TV
Marcia Gagliardi, Author, Writer, Tablehopper.com, KGO Radio, "The Tablehopper's Guide to Dining and Drinking in SF"
Art Pollard, Award Winning Master Chocolatier, Amano Artisan Chocolate
Stephen Durfee, Author, CEPC, Culinary Institute of America, "World Chocolate Masters", TLC, Bocuse d'Or
OTHER SPEAKERS:
Kathy Wiley, Poco Dolce
Gary Guittard, Guittard Chocolate Company
Mary Loomas, Saratoga Chocolates - Chocolate Recipe Demo
Heinz Rimann, The TeaRoom Chocolate - Chocolate Mousse Demo
Bruce Rogers - "Chocolate Scented Orchids and Vanilla Bean Vines"
Professor Suzanne C. Toczyski, Sonoma State Univ. - "The Story of Chocolate in France"
Amy Sherman, CookingwithAmy.com
Chocolate & Pilates demonstration, by Mercury Fitness
Elyce Zahn CocoTutti Chocolates - "Essences and Aromas for Chocolate Lovers"
All presentations, talks and seminars will take place at the Fort Mason Center, Festival Pavilion. Tickets are available at
www.SFChocolateSalon.com
.
TasteTV Events include: