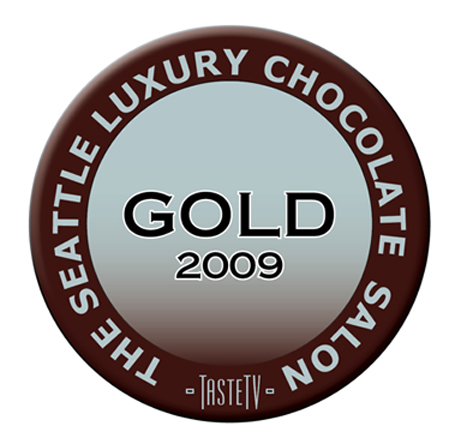 The
2nd Annual Seattle Luxury CHOCOLATE SALON, July 12th 2009
, announces a delicious lineup of speakers and members of its Chocolate Tasting Panel, including Joseph Whinney, Founder & CEO of
Theo Chocolate
, Lauren Adler of Chocolopolis, and a chocolate spa demonstration by Lisa Francoise Schafer, Owner of Sweet Beauty.
The Seattle Luxury CHOCOLATE SALON takes place from 11am-5pm on Sunday, July 12th, 2009, during Bastille Day Weekend. Chocolate aficionados, fanatics, lovers and addicts can taste & experience the finest in artisan, gourmet & premium chocolate in one of the world's great culinary metropolitan areas.
Seattle Chocolate Salon participants include
Amano Artisan Chocolate, Theo Chocolate, Intrigue Chocolates, Oh! Chocolate, Posh Chocolate, Crave Chocolate, Forte Chocolates, Divine Chocolate, Carter's Chocolates, Chocolopolis, Chubby Chipmunk Hand-Dipped Chocolates, La Châtelaine Chocolat Co., Eat Chocolates, Choffy, The Chocolate Traveler, William Dean Chocolates, Xocai Healthy Chocolate, Suess Chocolates, Claudio Corallo Chocolate, Marco Polo Designs' Chocolate Jewelry, TasteTV, Yelp, Sizzleworks Cooking School, Chocolate Television and TasteTV.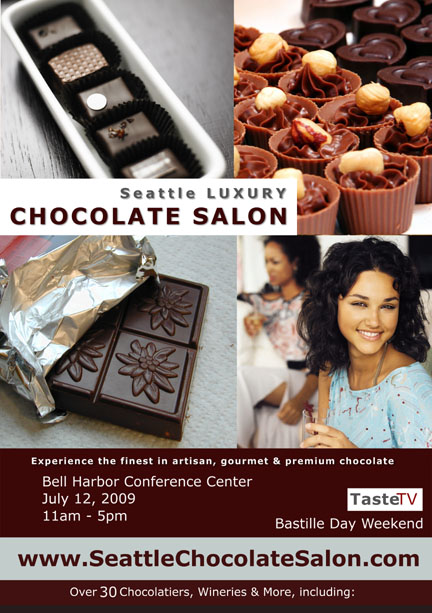 CHOCOLATE TASTING & SALON AWARDS
The Salon's Chocolate Awards Tasting Panel will select the best of the best on July 12th, and is composed of Tan Vinh (Seattle Times), Jay Friedman (Gastrolust.com, Seattle Restaurant Examiner), Keren Brown (Frantic Foodie), Viv (Seattle Bon Vivant), Traca Savadogo (Seattle Examiner, Seattle Tall Poppy), Carol Dearth (Sizzleworks Cooking School), Julien Perry ("Go Eat!" - KOMO Radio, WINO Magazine, Urbanspoon), Dana Cree (TastingMenu.com, Veil Restaurant), Brenda Pederson (CulinaryFool.com), Loretto Hulse (Tri-City Herald), Katelyn Hackett (Seattlest.com), Becky Selengut (Chef Reinvented Blog, Seattle Homes and Lifestyles, Edible Seattle), Connie Adams (SeattleDining.com), Alice Currah (SavorySweetLife.com), Leslie Seaton (FreshPickedSeattle.com), Leslie D. Helm (Seattle Business Magazine), and food and lifestyle writer Joann Natalia Aquino (DailyCandy, Citysearch).
Chocolate Tasting Panelists have the luxurious responsibility of tasting all chocolates and confections and rating them for receipt of Luxury Chocolate Salon Awards.
The Seattle Luxury CHOCOLATE SALON is Sunday, July 12th, 2009, at the Bell Harbor International Conference Center, 2211 Alaskan Way, Pier 66. 11:00 a.m. - 5:00 p.m.
Tickets are $25 for adults, $20.00 in Advance (recommended). For Advance Ticket purchases, Salon information, updated chocolatiers and other exhibitors, or for the Menu of events, go to
http://www.SeattleChocolateSalon.com
.
TasteTV Events include:
This blog
from the contributors, producers and correspondents at TasteTV at
TasteTV.com
. technorati tags:
TasteTV
,
restaurants
,
video
,
content
,
food
,
Chocolate
,
wine
,
recipes
,
cooking
,
Restaurant Reviews
,
Chef
,
ITV
,
fashion
,
seafood